Week of June 16, 2002
Aleph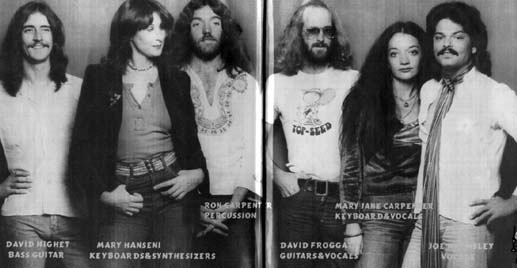 Personnel:
Mary Carpenter - keyboards
Ron Carpenter - drums
Dave Froggett - guitar
Mary Hansen - keyboards
David Highett - bass
Joe Walmsley - vocals
Album:
Surface Tension (Atlantic 600029) 1977
Formed in 1975, this symphonic prog outfit played along the lines of Sebastian Hardie.

Taken from "Dreams, Fantasies and Nightmares" by Vernon Joynson, an extensive guide to Canadian / Australian / New Zealand and Latin American psych and garage music 1963 - 1976.

Sydney-based symphonic rock band Aleph's one album, "Surface Tension", featured full-blown, complex progressive rock in the Yes/Genesis/King Crimson vein. Joe Walmsley's high-pitched vocals recalled Yes singer Jon Anderson, while Dave Froggett's guitar style was in the manner of King Crimson's Robert Fripp. The only other local bands playing in a similar style at the time were Sebastian Hardie and Windchase. "Surface Tension" failed to chart. Prior to the album's release, Aleph issued a cover of The Yardbirds' "Little Games"/"Of The Essence" as a single. Walmsley left before the album appeared at the end of 1977. Unable to find a suitable replacement, the band fell apart in early 1978. Later in the year, Ron Carpenter formed First Light, which issued a self-titled, self-financed album in 1979.

Borrowed from www.whammo.com.au - a worldwide home of Australasian music online.
---