Week of March 22, 1998
Novalis
In late Autumn of 1971, bass player Heino Schünzel from the band Marquis and singer Jürgen Wenzel put an ad in a Hamburg daily: "Looking for drummer and organ player for new rock band." Hartwig Biereichel, who had played with Greenlight until 1970, and Lutz Rahn from jazz-rock group Capricorn replied to the ad, and when the new band played their first gig in the Fabrik in Hamburg in 1972, they were present on stage as well. The quartet called itself Novalis after the most important German poet of early romanticism. Their music, a heavy organ rock, was compared to the sounds of bands such as King Crimson and Pink Floyd.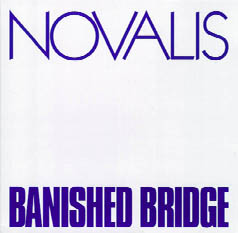 On "Banished Bridge", Novalis played romantic rock without using electric guitars. Classic leitmotifs were dominated by the rich sound of playful keyboards while Jürgen Wenzel wrote and sang complex English lyrics showing a lot of fantasy. "Banished Bridge" made the music world sit up and notice. It also underlined the intention of the Brain label to remove the 'shady' Krautrock image from the new German rock music.
For the release of their debut album, Novalis toured Germany, playing together with Emergency and Jane. They were able to inspire a rapidly growing number of loyal fans. In late 1973, guitar player Detlef Job joined the band. Half a year later, the band fired singer Wenzel after a dispute and replaced him with multi-instrumentalist Carlo Karges, who had been previously with Tomorrow's Gift. For their second album, the keyboard rockers recorded verses by their namesake and convinced with luxurious, lavish, colourful and highly complex arrangements.
After only one album, Karges left Novalis again and later on became well-known as Nena's companion. He was replaced by Austrian Fred Mühlböck. The hard rock singer put an end to the "guitar-free" era of Novalis, who now developed into a real top German group.
The third LP, "Sommerabend", made Novalis one of the most successful rock bands of the
nation. They sold 300,000 albums in Germany by 1978, and in Japan they were considered to be the second biggest act to come out of Germany after the Scorpions. Novalis are an excellent example of the continuous and systematic build-up of a rock group. They never stopped working on their concept and were able to perfectly transfer it onto stage, a fact proven by their high number of concerts per year.
After having been accepted as a professional top band, Novalis produced a total of ten albums until 1983. Especially "Brandung" (1977) and "Vielleicht bist du ein Clown?" (1978) found a large international audience. The ambitious musicians continued to develop electronic sound worlds consisting of a well-balanced mixture of elements of classical piano music, baroque organ visions and rock accents rich with effects.
The most popular romantic rock band expressed their concern over the endangered world of the whales on their 1979 album "Flossenengel" and donated one mark from every concert ticket to the World Wildlife Fund. "As a rock musician you have to be honest because the people see through you" (Hartwig Biereichel).
1980 saw another change in line-up for Novalis . Heinz Schicke - who had played with the trio Schicke, Fuhrs, Frohling - took over bass from Heino Schünzel and played an important role in creating the very compact, sometimes dynamic, sometimes familiarly romantic sound of the 1982 album "Neumond". That same year, Novalis celebrated their tenth anniversary with an extensive concert tour. Finally, the album "Sterntaucher" and an accompanying tour in the late autumn of 1983 ended the story of a groundbreaking German rock band that always communicated very intensively with their audience, but could not stand up to the overpowering onslaught of punk, new wave and NDW (new German wave).
Christian Graf
(Taken from the CD reissue of "Banished Bridge", Repertoire PMS 7050-WP)
---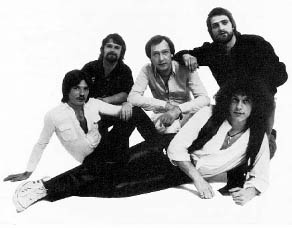 During the mid-seventies, the Hamburg-based band Novalis established themselves as leaders in the field of German-language romantic rock. Especially during the first three years of their career, their concerts radiated the flair of incense and candlelight. Starting with heavily organ-accentuated art rock a-la King Crimson (and on their debut, "Banished Bridge", including English lyrics), Novalis later developed their own unique style, a mixture of progressive, classic, folk and rock. As of 1975, their music was accompanied by their own poetic lyrics or texts by their famous namesake (Novalis was the pen name of Karl Friedrich von Hardenberg, 1772-1801, a poet of the early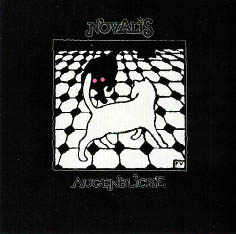 romanticism). As a reviewer of the "Soester Anzeiger" put it so adequately in February 1976: "The music by Novalis cleverly and discreetly opens the gate to a fairy-tale world without stressful hectic and all the daily hassle… If rock music, which in the end is only a means of entertainment, deserves the attribute beautiful at all, then it is in this form, a form that in spite of all earthly rhythms leaves the intellect room for associations."
Novalis was formed in the Autumn of 1971 in Hamburg. Founding members were singer Jürgen Wenzel, organist Lutz Rahn, bass player Heino Schünzel and drummer Hartwig Biereichel. In March 1972, the band played at a festival in Hamburg's Fabrik to an audience of almost 2,000 people. Among them was producer Jochen Petersen, who immediately got the band a record deal with German rock label Brain, a recently founded sub-label of Hamburg record company Metronome. Together with Petersen (who later joined the band Randy Pie as saxophone player), Novalis recorded their debut album with the line-up: Wenzel, Rahn, Schünzel and Biereichel. Apart from numerous keyboard instruments, acoustic guitars, bass and drums, you can hear six Hamburg choir girls as well. They had come to the studio to sing background vocals for the new single by German schlager singer Roberto Blanco, but then they changed their minds and decided to sing for Novalis instead.
In 1974, the quartet became a quintet when guitarist Detlef Job joined the band. Wenzel was replaced by guitarist Carlo Karges (ex-Tomorrow's Gift), who stayed until Autumn 1975 and later on was highly successful with Nena. When the band was in the studio again to record their second album (with all English lyrics ready for the songs), Karges and producer Achim Reichel convinced the band to use their own mother tongue for the songs. "The results are more of a surprise for the band than for some critics...", an amazed press noted. The change in direction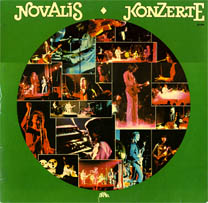 resulted in an increasing popularity. Especially the following albums, "Sommerabend", "Konzerte" (a live album), "Brandung" and "Vielleicht bist du ein Clown?" made the band highly popular.
In 1977, the band was joined by Austrian singer Fred Mühlböck who can first be heard on "Konzerte". In the spring of 1978, the musicians proudly reported to the press: "Over the last three years, Novalis played some 350 concerts, changed their line-up on only one position, used up 12 roadies, even got to know a groupie once and now no longer is in debt. The whole thing starts to pay off."
Novalis were not only successful in Germany, but made fans abroad, too. They were even successful in Japan - not only as musicians, but in private matters as well: Guitarist Detlef Job married a Japanese fan in 1985! On their seventh album, "Flossenengel", Novalis took a stand for the endangered whales and donated DM 20,000 to the World Wildlife Fund. With the beginning of the eighties, the band's musical concept no longer worked. As the Neue Deutsche Welle (New German Wave) started to dominate the German music scene, LP's like "Augenblicke" (1980), "Neumond" (1982) and "Sterntaucher" (1983) no longer sounded trendy enough to be profitable for record labels, even though the music was brilliant. Another negative development was a long-drawn legal debate with Achim Reichel, their producer and publisher. In 1984, Mühlböck left the band and returned to Austria. After the twelfth album, called "Nach uns die Flut", the band dissolved.
Whereas the press once had raved over Novalis' musical efforts, magazines like the "Musik Express" started to carp that the lyrics were "twaddle" and that Novalis' music was "without any new or surprising elements". The musicians recognised the writing on the wall, but were unwilling to radically alter the musical concept of the band. Instead, they agreed to split up.
Matthias Mineur
(Taken from the CD reissue of "Brandung", Repertoire PMS 7069-WP)
---
"Brandung" (1977, Brain 60.094)
"Brandung" was the first Novalis studio album featuring the band's newest member, singer Fred Mühlböck. Mühlböck joined the band in Autumn 1976 and, according to drummer Hartwig Biereichel, made Novalis undergo radical changes. Said Biereichel: "Until then we had been a band that might have looked professional, but actually had been a bunch of amateur musicians with rather mediocre technical qualities. In 1977, we all gave up our jobs and started working on and with ourselves." The preceding album, "Sommerabend", released in 1976, had been a major smash and sold more than 100,000 units in a couple of months. Another highlight of 1976 had been the fantastic concert at the Brain Festival in Essen, where Novalis had to play six encores! Accordingly, the band was exhilarated when they recorded "Brandung" in the Summer of 1977. Recording took place in the studio of comedian Otto Waalkes and clearly showed that the band intended to write shorter tunes with higher radio compatibility. Under that aspect, the opener "Irgendwo, Irgendwann" worked very well, and, after its release as a single, became a genuine radio hit, especially across Northern Germany. In "Wenn nicht mehr Zahlen und Figuren", Novalis once again used lyrics by their famous namesake. The next song, "Atlantis", became a much-requested live standard, not only because of the lavish pyrotechnical show accompanying the song. The second side of the album is dominated by "Sonnenwende", a typical Novalis concept song. The high vocals split the fans into two groups - the majority loved the song, but others thought it inappropriate. Apart from "Sommerabend", "Brandung" was the most successful Novalis album ever and sold more than 100,000 units. Very beautiful, by the way, is the cover that the band's "foster-father", Achim Reichel, chose for the record.
Matthias Mineur
(Taken from the CD reissue of "Brandung", Repertoire PMS 7069-WP)
---
'Vielleicht Bist Du Ein Clown?' (1978, Brain 60.164/1977, Brain 60.094)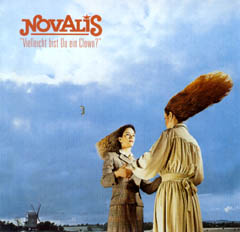 Novalis' sixth album, 'Vielleicht bist du ein Clown', was recorded during a time of great successes and overwhelming public reactions to their work, so, accordingly, it reflects the very positive mood that dominated throughout the band.
The year before, the band had been the celebrated highlight at the Brain Festival in Essen. Now the TV stations began to take notice, and the highly popular Stern magazine even published a feature story about the "Novalis phenomena". The concerts were very well attended, with an average of more than 1,000 visitors at each gig. Their previous studio record, 'Brandung', had been the last concept album. "Firstly, we didn't have any more long and worthwhile stories to tell", Biereichel recalls. "And secondly, the pressure by our label to write something more radio-friendly was increasing." Since singer Fred Mühlböck had quite a number of good songs in store, the switch to shorter, catchier songs was an easy one for Novalis.
The first number on the album is 'Der Geigenspieler', written by guitarist Detlef Job, who performed most of the vocals here as well. This song, with its dreamy melodies and multitude of tempo changes, was typical for Job's songwriting at that time. The second number, 'Zingaresca', one of the band's few instrumental numbers, was played quite a lot on the radio and even became part of the soundtrack of highly popular German crime series "Tatort". 'Manchmal fällt der Regen eben lang', written by Mühlböck, is, as Biereichel put it, "almost a schlager in the best sense of the word." The title track, on the other hand, turns out to contain very complex rhythm patterns with constant breaks and a lot of changes of tempo, making quite a lot of demands on the musicians. Even today, band members receive letters from fellow musicians who would like to know how to play the complicated rhythms. 'Clown' was a favourite at concerts.
Mühlböck secretly left the stage (while a dummy dressed like him stayed behind in his chair) to turn up in the middle of the audience with a remote microphone. Such technical gadgets were still a small sensation twenty years ago. 'City Nord' was written by keyboarder Lutz Rahn and is the second instrumental on the album. On 'Die Welt wird alt und wieder jung', Novalis translated a poem by Friedrich Schiller into music, thus closing the circle to the texts of von Hardenberg they had recorded on earlier records. Also worth a mention is the fact that the impressive cover artwork was done by British pop art artists Hipgnosis, who became famous through their work for, among others, Pink Floyd ('Dark Side Of The Moon', 'Wish You Were Here') and Led Zeppelin ('Houses Of The Holy', and others). The New Musical Express discovered "Keith Emerson-like Hammond sounds, Wishbone Ash guitar phrases and spherical sounds reminiscent of Yes" on this record. What a comparison!
Matthias Mineur
Taken from the CD reissue of 'Vielleicht Bist Du Ein Clown?', Repertoire, Germany, 1998, PMS 7076-WP
---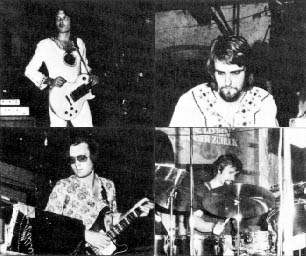 An important and long-lasting German exponent of 'romantic rock' (in their own words), Novalis was formed in Autumn 1971 by Heino Schünzel (bass), Jürgen Wenzel (vocals), Lutz Rahn (keyboards) and Hartwig Biereichel (drums). The latter had previously played in a blues-rock outfit named Greenlight (releasing four tracks on the 1970 festival sampler, "Love & Peace"). In 1972, Novalis gave their first concert in their hometown Hamburg as the warm-up act to Cravinkel at The Fabrik. "Banished Bridge" (recorded in January 1973 at Windrose Studios, produced by Jochen Petersen) was one of the first examples of synthesised German symphonic rock. A very good album with a lyrical and melancholic atmosphere. The 17 minute long title track stands out as something very special - a very careful and understated composition with long 'ambient' passages full of bird whistles. Perhaps a good comparison would be PFM's first two Italian albums, and the vocal work is comparable to the first Jane album.
However, vocalist Wenzel left the band after some arguments in 1974. Detlef Job (guitar) and Carlo Karges (guitar, keyboards) were added, expanding the group to a quintet. Karges had previously been a member of Tomorrow's Gift. With completely different vocals (sung by Heino Schünzel), German lyrics and the added guitars, their self-titled second album (recorded February 1975 in Studio Maschen) understandably sounded very different from the first. It was produced by Achim Reichel (who also produced all their forthcoming Brain albums) and comprised five songs of fine keyboard-based, folk-inspired rock, written by Rahn and Karges. Best were "Impressionen", based on Brucker's 5th Symphony, and "Es Farbte Sich Die Wiese Grun", a symphonic folk song with adapted lyrics courtesy of the German romantic poet Novalis (Friedrich Freiherr von Hardenberg), written in 1798. Comparisons can be made with Holderlin's Spiegelei albums. Carlo Karges abandoned such music when he quit to join the new wave act Nena.
Novalis recorded "Sommerabend" as a quartet in February 1976. This was an even better work, combining and developing elements from their previous albums to a near-perfect, personal symphonic rock. The title track must rank as their most outstanding achievement ever: a lush and romantic opus with acoustic guitars, string
synthesizers, choir, thoughtful lyrics (in German) and nature's sounds of a Summer afternoon. Just beautiful! In June 1976, the Austrian Fred Mühlböck (vocals, guitar, flute) was engaged as Novalis' new fifth member. His first album with the group was "Konzerte" (1977), a reasonably good live album compiled from concerts, which had taken place between January and April 1977.
Their next studio album, "Brandung", was recorded in October the same year, in Hamburg. Another fine work, though lighter and more commercial, courtesy of Mühlböck. Among the four tracks was the side-long "Sonnenwende", a sequel to "Sommerabend". For the first time, Lutz Rahn also used mellotrons to expand the sound. However, the sixth album, "Vielleicht Bist Du Ein Clown" (1978) marked a downward turn in their musical quality. The increasing success (300,000 albums sold in Germany) saw the group cash in on a lighter pop-rock sound with a wider appeal, building on the sweetest edges of the previous album. "Flossenengel" (recorded June-July 1979) was their first album for Achim Reicher's new label Ahorn, another light album (with ten tracks!), but better than the last, it was almost a minor classic! "Augenblicke" (1980) was the last album with founder bassist Heino Schünzel. His replacement was Heinz Frohling (bass) from S.F.F. Novalis' subsequent albums for Vertigo, if never exactly bad, failed to match their earlier work.
Albums:
Banished Bridge 1973 Brain 1029
Novalis 1975 Brain 1070
Sommerabend 1976 Brain 1087
Konzerte 1977 Brain 60.065
Brandung 1977 Brain 60.094
Vielleicht Bist Du Ein Clown? 1978 Brain 60.164
Flossenengel 1979 Ahorn 6.23980
Augenblicke 1980 Ahorn 69.109
Neumond 1982 Vertigo 6435 150
Sterntaucher 1983 Vertigo 812 597
Nach Uns Die Flut 1985 Vertigo 824 645
Compilations:
Sonnenwende 1980 Brain 40.173
Wer Schmetterlinge Lachen Hort 1980 Brain 60.219
Visionen 1983 Metronome 811 535
Taken from Cosmic Dreams at Play - A guide to German Progressive and Electronic Rock by Dag Erik Asbjørnsen, Borderline Productions, ISBN 1-899855-01-7
---