Week of March 15, 1998
Murphy Blend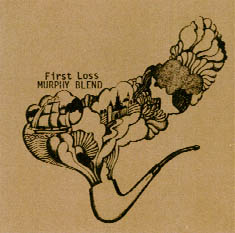 Murphy Blend were responsible for one of the best albums released on Polydor's legendary Kuckuck label. They were a quintet comprising Wolf-Rodiger Uhlig (organ, cembalo, grand piano, vocals), Wolfgang Rumler (guitar, vocals), Andreas Scholz (bass) and Achim Schmidt (drums). "First Loss" was recorded in Union Studio, Munich, during October - December 1970, produced by Jonas Porst (the manager of Ihre Kinder!) and engineered by Thomas Klemt.
Murphy Blend revealed a fine blend in which Uhlig utilised his keyboards to incorporate classical themes into their heavy progressive music. He had studied classical music for three years in Berlin. The songs were melodic, textured by heavy guitar and organ riffs. The album contained six proper tracks (mostly written by Uhlig) and the shortest German song of all time: the 3/10 of a second long "Happiness"! It's impossible to name highlights as all material is truly great! Sadly, Murphy Blend disbanded soon after recording this album. Andreas Scholz went on the heavy progressive Blackwater Park in 1971. Wolf-Rudiger Uhlig guested on Frumpy's third album, "By The Way" in 1972.
Album:
First Loss 1971 Kuckuck 2375 005
Re-issued in 1991 on CD by Kuckuck arr. by Ohrwashl. A numbered edition of 1,000 copies.
Taken from Cosmic Dreams at Play - A guide to German Progressive and Electronic Rock by Dag Erik Asbjørnsen, Borderline Productions, ISBN 1-899855-01-7
---