Week of August 23, 1998
Mick Abrahams Band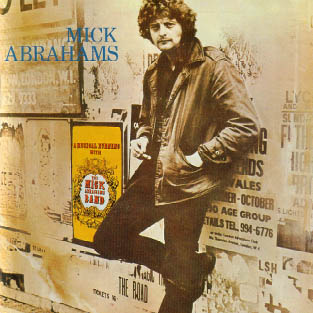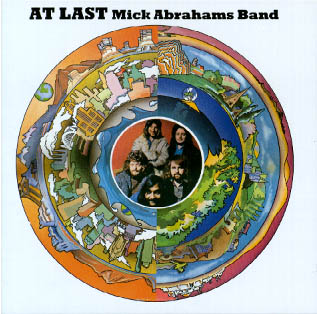 Personnel:
Mick Abrahams - Guitar, Vocals
Ritchie Dharma - Drums
Walt Monahan - Bass
Bob Sargeant - Keyboards, Vocals
Albums:
A Musical Evening With Mick Abrahams (Chrysalis ILPS 9147) 1971
(reissued on Beat Goes On (BGO CD 95) 1992)
At Last (Chrysalis CHR 1005) 1972
(reissued on Edsel (ED CD 335) 1991)
Have Fun Learning The Guitar (SRT SRTM 73313) 1975
Abrahams first played in a Cream-inspired blues band called McGregor's Engine before becoming a founder member of Jethro Tull in November 1967. He left a year later to join Blodwyn Pig but left them after two US tours in September 1970 to form the Mick Abrahams Band. Their debut album comprised a sort of jazzy R&B style rock. He rejoined a later Blodwyn Pig line-up in February 1974 but this soon petered out. Abrahams remained active in the music business, recording a third album in 1975, which was a bit disappointing (read on).
Source: The Tapestry of Delights - The Comprehensive Guide to British Music of the Beat, R&B, Psychedelic and Progressive Eras 1963-1976, Vernon Joynson
ISBN 1 899855 04 1
---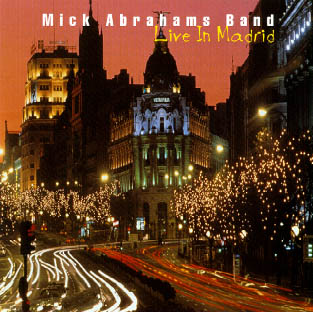 Jethro Tull were playing the Royal Albert Hall. The Liverpool Scene were one of the support bands and they performed "I've Got Those Fleetwood Mac, Chicken Shack, Chicken Shack, John Mayall Can't Fail Blues", a parody of the late sixties British Blues Boom. Guitarist Andy Roberts had just launched into Mick Abrahams' party piece "Cat Squirrel", when Mick himself sauntered onto the stage, calmly unplugged Andy's guitar and wandered off. Huge applause to match Mick's huge grin. He had the rock world at his feet. But there were plenty of times ahead when the grin did not come so easily, when laughter gave way to despair and anger. The break-up with Ian Anderson (now mended) is well known; less documented is the rancour surrounding the demise of Blodwyn Pig, the band whose name still invokes the response, 'Pardon?'. When Pig collapsed, Mick says, "I just wanted to get another band together right away, but also to experiment a bit, go down a different line." Blodwyn Pig was Mick's band, even the name is registered to him, but he still needed to assert to the world his leadership status. And so from the ashes of Blodwyn Pig, with no more fancy names, came the Mick Abrahams Band.
"The first line-up had a classical violinist in it. One of the hardest things I ever had to do was fire him. He was a great lad,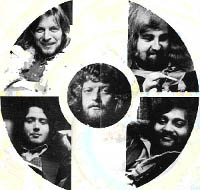 but as soon as we got out on stage he'd forget everything we did in rehearsal and just go wild. The day I fired him, he leant against the amp and cried. In fact I got a bit Mayallish about it all; having people on board for about a year tops and then we parted company."
"Live In Madrid" captures the band in 1974, experimentations over, stepping out as a stripped down trio playing the kind of greasy rock 'n' roll perennially framed within the boundaries of motorway fry-ups, broken down vans and dodgy toilets.
As it transpired, the album marked a watershed in Mick's career. Even though he was the band leader, business hassles convinced Mick that he had completely lost control of his life, "about six weeks after we got back from Madrid, I quite literally told everybody to fuck off. I'd had enough of all the shit. It was over."
The guitar went in the loft, but although it didn't stay there for long, Mick turned his back on life as a professional musician and hopped from one job to the next; window cleaner, lorry driver, swimming pool manager and used car salesman. In 1980, he tried his hand at selling insurance and within five years he was the top salesman in the company. But he knew he wasn't being true to himself. He'd kept his hand in doing the occasional session and instrument demo, but it wasn't enough, "the insurance job was supposed to support me as a musician, but it took over. I realised I was missing the life and I had to get back to the true path."
The long way back began in 1988 with the reforming of Blodwyn Pig which continues today albeit with the inevitable changes of line-up.
When Mick recorded "Live In Madrid", he was a deeply unhappy man, but in performance he gave nothing less than his best. Today, he is more mellow, certainly wiser, but no less a professional, striving to play better in the company of the best musicians. In answer to the question, "What's in it for the punter at a Blodwyn Pig concert?", Mick replies, "a show that sends people home with a smile on their face". But don't take his word for it, go and see for yourself.
Harry Shapiro
Taken from the CD reissue of "Live in Madrid", Indigo Records, IGOCD 2065
---