Week of July 6, 1997
Lucifer's Friend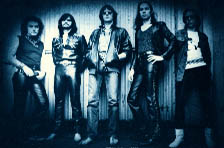 Germany has made a proud and honourable contribution to the world of heavy metal and hard rock and during the Eighties bands like the Scorpions and Helloween became international stars. Another band who gained great acclaim were Lucifer's Friend who first ignited their flames of fury in the early seventies.
Lucifer is Latin for bringer of light, but the phrase was applied by St. Jerome to Satan,
before the evil one was driven out of heaven for the sin of pride. A 'Lucifer' was also an early name for the safety striking match invented in 1826, which replaced the tinder box. Therefore, 'Lucifer's Friend' is either a mate of the devil or someone who can light your cigarette!
However, our Lucifer's Friend is a very powerful rock band with a career that spanned a mind exploding decade of nefarious activity.
They came together in 1970 with a line up that included British born John Lawton (vocals), Peter Hesslein (guitar), Peter Hecht (keyboards), Dieter Horns (bass) and Joachim Reitenbach (drums). Joachim was later replaced by Herbert Bornholdt, formerly a member of The Rattles, in the summer of 1973.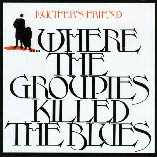 Peter Hesslein began his musical career way back in 1963 with a band called the Giants. Peter Hecht and Dieter Horns were both members of a group known as the German Bonds, from 1965 onwards. Peter Hesslein joined the Bonds in 1968 which survived until 1970. At this point the various members took up the study of graphic design in an attempt to forge more sensible careers.
But the call of rock'n'roll was too strong and in late 1970, the ex-Bonds men, together with Joachim Reitenbach , decided to record a new album. They needed a lead singer and eventually found John Lawton who had been with the group Stonewall.
The new band took the name Lucifer's Friend and released their first album 'Asterix' in 1970. Their first three albums were undeniably influenced by contemporary British bands such as Uriah Heep and Deep Purple. 'Lucifer's Friend' was released on the Phillips label in January 1971
followed by 'Where The Groupies Killed The Blues' (1972). Lucifer's Friend' was given rave reviews particularly in America where the Chicago Express compared them to Led Zeppelin. This encouraged the five-piece to commence a heavy touring schedule, a policy which later backfired. Gradually their music had become a shade more sophisticated and serious jazz and symphonic influences were detected by critics and fans. This was no doubt due to the increasing importance of 'progressive rock' which seemed to appeal to college students and university audiences rather more than good old heavy metal. It was also more interesting for musicians to play and presented them with new challenges.
By 1972 the band were forced to give up 'live' appearances due to the high cost of touring. "We were badly paid and cheated and had terrible debts," recalls Peter Hesslein sadly.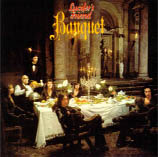 Lucifer's Friend continued as a studio unit and they concentrated their efforts on producing a succession of excellent albums. To earn his keep while off the road, Hesslein worked as a session man with such varied outfits as The Rattles, the Les Humphries Singers and even the James Last Orchestra (in L.H.S. - at times side by side with Lawton).
'I'm Just A Rock'n'Roll Singer' was first issued on the Vertigo label in 1973 and proved a splendid example of the band's maturing style with fine performances like 'Groovin' Stone,' 'Born On The Run,' 'Blind Freedom' and 'Rock'n'Roll Singer.' It was their second album on the prestigious Vertigo label that specialised in showcasing progressive music.
The album was a considerable success, particularly in America where it was voted best record of the year in some U.S. cities. It was a tremendous boost for the German rock scene.
The band released two more LPs for Vertigo including 'Banquet' (1974) and 'Mind Exploding' (1976). On 'Banquet' the band brought in 30 session musicians to help create a major epic aimed at the American market. One reviewer described it as 'An orchestral rock banquet for musical gourmets.' However, 'Mind Exploding' proved less successful and John Lawton left to join his heroes Uriah Heep back in Britain. It happened when Heep were hit by a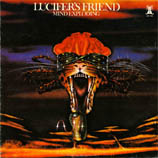 major row. Singer David Byron had been fired and bassist John Wetton also left. Lawton joined Heep alongside another new recruit ex-Spiders From Mars bassist Trevor Bolder, and John made his Heep debut on the album 'Firefly' (1977).
In the meantime Lucifer's Friend replaced Lawton with Mike Starrs (ex-Colosseum II), one of the founder members of Spinning Wheel. In 1976 the band went back on the road again. Keyboard player Andrew Askew from Edison Lighthouse and Atlantis was added to help reproduce their album sound on stage. They performed a special 'comeback' show at the Musikhalle Hamburg in October, 1978 and the following year supported Manfred Mann's Earth Band on his European tour.
With Starrs up front, the band released two further albums for the Elektra label: 'Good Time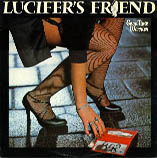 Warrior' (1979), 'Sneak Me In'(1980); 'Mean Machine' (1981) featured the return of John Lawton into the fold. The latter also saw the band returning to its original metal style. The group continued to tour, supporting stars like the Scorpions and Van Halen, but record sales were disappointing.
In 1980, Mike Starrs and Adrian Askew quit and John Lawton came back to the fold from his stint with Uriah Heep, and Peter Hecht returned to the keyboards. John sang with renewed power on 'Mean Machine' which was their response to the now booming heavy metal scene. In Autumn 1981 the band went out on a small club tour, but alas it was too late to regain their old metal following. Consequently the band broke up in 1982. John Lawton struck out on his own and formed a new band called Rebel in 1983.
Lucifer's Friend could probably have enjoyed further success during the eighties if they'd stuck to their metal roots. But at best they struck a blow for German rock and with albums like 'I'm Just A Rock'n'Roll Singer' ensured themselves a permanent place in the hall of fame.
CHRIS WELCH, London 1997
Taken from the CD reissue of "I'm Just A Rock'n'Roll Singer" (Repertoire, PMS 7042 WP)
---
Discography: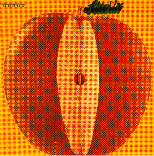 Asterix:
Asterix (1970)
Lucifer's Friend:
Lucifer's Friend (1970)
Where The Groupies Killed the Blues (1972)
I'm Just A Rock'n'Roll Singer (1973)
Banquet (1974)
Mind Exploding (1976)
Good Time Warrior (1979)
Sneak Me In (1980)
Mean Machine (1981)
Sumo Grip (1994)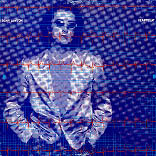 John Lawton's solo album: "Heartbeat" (1980)
Rebel: "Rebel" (1983) (John Lawton's project)
Zar: "Live Your Life Forever" (1990)
John Lawton's vocals are featured on the following
Uriah Heep albums:
Firefly (77)
Innocent Victim (77)
Fallen Angel (78)
Live in Europe (79, issued for the first time in 1986 on Raw Power, now available as a 2CD remaster from Castle Communications)
---
Back to Alex's Home Page