Week of September 6, 1998
Ihre Kinder
Nuremberg's most valuable contribution to the polit-rock scene was the group Ihre Kinder. In the mid-sixties the pop band Jonah & The Whales was assembled, consisting of Roland Multhaupt (drums), Sonny Hennig (vocals), Thommy Roder (bass), Ernst Schultz (guitar) and Georgie Meyer (violin). In 1966, they recorded a cover version of "It Ain't Me Babe" for a single on Vogue (DVS 14511). This proved to be an ill-fated one-off attempt, and the group disbanded. However, in 1968, Jonas Porst and Sonny Hennig decided to form a new group with Muck Groh (guitar), Karl Mack (bass), Peter Schmidt (drums) and Georgie Meyer (flute, vocals). Ihre Kinder was to be a politically aware band using German lyrics. Porst's dad was quite a rich man, who was able to support the forthcoming activities. Porst himself soon gave up the drumming and became Ihre Kinder's producer and manager. Several demo tapes were recorded but no record companies were interested. In July - August 1969 an album was recorded at the Dierks Studio at the band's own risk; and was eventually released by Phillips. Mack had now been replaced by Walti Schneider (bass). A female vocalist, Judith Brigger, also took part in this project. The album admittedly sounds quite dated today, featuring 12 short and easy-going folk-pop songs. Still it must be honoured as it is one of the first records of 'Deutschrock' with German lyrics.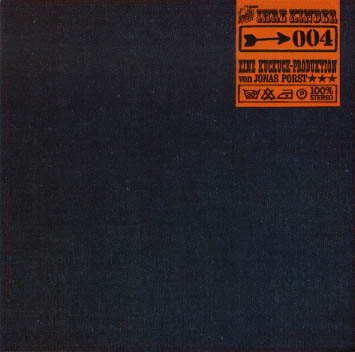 "Leere Hande" (1970) was a great improvement, their first true folk-rock album. The arrangements here were more varied with more use of organ, flute and electric guitars. The band had also absorbed some progressive touches from groups like Traffic and Jethro Tull. The 11 songs themselves were more memorable than those on the previous album. Some of them were written by Ernst Schultz (guitar, flute, vocals), now added as Ihre Kinder's sixth member, the rest came from Sonny Hennig. "Leere Hande" was recorded during January and February 1970 in Union Studio, Munich, with Thomas Klemt engineering. It was the first release on the Kuckuck label, generously enclosing a lyrics insert and a large poster.
"2375 004" went a step further, as it was released in a denim jeans cover, even featuring washing instructions! It was recorded at the same venue as its predecessor in August 1970. Thommy Roder (bass, sax, vocals) had now replaced Walti Schneider. This album, entitled after its own catalogue number, was a further development towards varied progressive folk-rock and some would say that it is their best one musically. Some of the compositions of Ernst Schultz were even slightly experimental ("Toter Soldat"). In 1971, Ihre Kinder released their first single: "Die Graue Stadt" coupled with "Komm Zu Dir". After this, Sonny Hennig quit the group to realize his solo ambitions. Ernst Schultz broke with the management and took over the leadership of Ihre Kinder.
Hennig contributed as guest on "Werdohl", named after a small German town in Sauerland. The group now produced themselves, at the Bavaria Studio (July - September 1971). The technical quality had improved, but musically the band had passed their creative zenith. In Autumn 1971, Schultz set off to record his first solo album, resulting in the breakup of Ihre Kinder. In January 1972, Sonny Hennig revived the band with Thommy Roder, Walti Schneider and new members Wolf Stumm (guitar) and Gunter Storch (drums). This line-up recorded the rather superfluous "Anfang Ohne Ende". Another incarnation gave concerts in 1974, consisting of Hennig, Schultz, Frenzel, Ulli Grun (guitar) and Heinz Hoff (drums). Hennig and Grun then founded a horrible soul pop-rock band named Powerful Tramps, before regaining some musical sense as Meistersinger & Ihre Kinder, a quintet that recorded two albums in the late seventies. Guitarist Muck Groh founded Aera after his tenure with Ihre Kinder and also recorded a solo album, "Muckefuck" in 1979. 1981 saw the reformation of Hennig, Schultz, Groh, Roder, Schneider and Frenzel for concerts and two further albums, which failed to recapture the spirit of the band from ten years ago.
Albums:
Ihre Kinder		1969 Phillips 844 393
Leere Hande		1970 Kuckuck 2375 001
Empty Hands		1971 Polydor 2371 165 (UK)
2375 004		1970 Kuckuck 2375 004
Werdohl			1971 Kuckuck 2375 013
Anfang Ohne Ende	1972 Kuckuck 2375 016
Live '82		1982 Ohr Today Omm 560001
Heute			1984 Virgin 206 678

Taken from Cosmic Dreams at Play - A guide to German Progressive and Electronic Rock by Dag Erik Asbjørnsen, Borderline Productions, ISBN 1-899855-01-7
---