Week of April 26, 1998
Hotlegs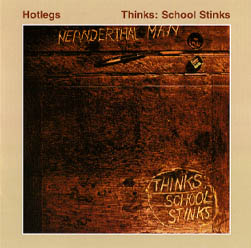 Personnel:
Lol Creme - Guitar, Bass, Vocals, Keyboards
Kevin Godley - Drums, Vocals
Eric Stewart - Guitar, Bass, Vocals
Baz Barker - Violin
Graham Gouldman - Bass
Mike Timoney - Organ
Albums:
Thinks: School Stinks (Philips 6308 047) 1971
Songs (Philips 6308 080) 1971
You Didn't Like It (Sonic SON 009) 1976
Note: the latter two are repackages of "Thinks: School Stinks".
45s:
Neanderthal Man/You Didn't Like It Because You
Didn't Think Of It (Fontana 6007 019) 1970
Lady Sadie/Loser (Philips 6308 140) 1971
Reissue: Neanderthal Man/(Flip by different artist) (Old Gold OG 9245) 1982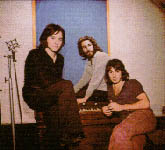 Creme, Godley and Stewart had all been members of Manchester's beat scene. Creme's first group was The Sabres, Stewart started out in Jerry Lee and The Staggerlees and was later in The Mockingbirds, which had been formed by Graham Gouldman in 1965. Gouldman was also a talented songwriter who wrote several hits for other artists and made several attempts at a solo career. Stewart first came to light in Wayne Fontana and The Mindbenders. When The Mindbenders broke away from Fontana Stewart stayed with them but when they finally split, Stewart and Gouldman bought a recording studio in Manchester. Godley and Creme, meanwhile, released a 45, "I'm Beside Myself", under the pseudonym Frabjoy and Runcible Spoon, on which Stewart and Gouldman played as session musicians. Having done songwriting for the US Kasenatz-Katz production team, the group re-equipped their Manchester studio (now called Strawberry Studios) and wrote and recorded "Neanderthal Man", a song with an extremely distinctive heavy rhythmic backing, which was released as a 45 under the name Hotlegs and became a massive worldwide hit, selling over two million copies. It peaked at No. 22 in the US, but climbed to No. 2 in the UK. Subsequent recordings under this name failed but a couple of years later the same personnel became 10CC.
Their album, "Thinks: School Stinks" included the 45 and "To Fly Away", a Godley/Creme composition, which had previously been recorded for a Marmalade sampler which never saw the light of day. Two other tracks from the album, "How Many Times" and "Run Baby Run" were released on an unsuccessful US-only 45 (Capitol 3043), but nothing more was heard of the band until September 1971 when a very ordinary 45, "Lady Sadie", was released and predictably flopped. Philips later repackaged the album as "Songs", omitting "Neanderthal Man" and "Lady Sadie" in favour of "The Loser" and the previously unreleased "Today". It sold poorly as did the subsequent repackaging, released on Sonic in 1976.
Source: The Tapestry of Delights - The Comprehensive Guide to British Music of the Beat, R&B, Psychedelic and Progressive Eras 1963-1976, Vernon Joynson
ISBN 1 899855 04 1
---