Week of January 25, 1998
Steve Harley (and Cockney Rebel)

Personnel:
Jean Paul-Crocker - Electric Violin, Guitar
Stuart Elliot - Drums
Steve Harley - Vocals
Paul Jeffreys - Bass
Milton Reame-James - Keyboards
Jim Cregan - Guitar
George Ford - Bass
Duncan MacKay - Keyboards
Albums:
The Human Menagerie (EMI EMA 759) 1973
The Psychomodo (EMI EMC 3033) 1974
The Best Years Of Our Lives (EMI EMC 3068) 1975
Timeless Flight (EMI EMA 775) 1976
Love's A Prima Donna (EMI EMC 3156) 1976
Face to Face (EMI - Live 2LP - EMSP 320) 1977
Hobo With a Grin (EMI SW 11770) 1978
The Candidate (EMI 7C 062-07134) 1979
Yes You Can - 1992
Greatest Hits Live (picture disc) - 1995
Poetic Justice - 1996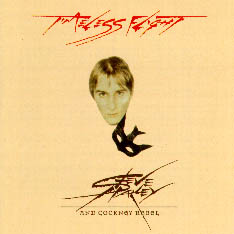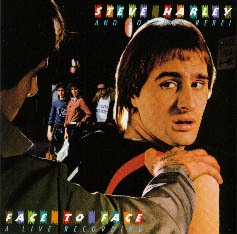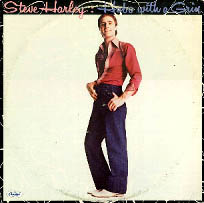 ---
Compilations:
The Best Of Steve Harley And Cockney Rebel (EMI 13345) 1979
Greatest Hits (EMI EM 1291) 1988
The Collection (Castle Communications CCSLP 197)
Mr. Soft (Connoisseur Collection VSOP LP 124) 1988
Make Me Smile - The Best Of Steve Harley And Cockney Rebel (EMI CDP 7 99062) 1992
Timeless Flight (EMI CDP 795 927 2) 1991
---
The Human Menagerie and The Psychomodo reissued as double set (EMI EDP 1546 773) in 1980. In 1990 the two albums were put out on CD with two bonus tracks each. The Psychomodo was also reissued on a budget label (Fame FA 4131351) in 1983. The Best Of Steve Harley And Cockney Rebel was later reissued on the budget priced Fame (FA 3007) label in 1981; Greatest Hits was also put out on CD with three extra cuts. The Collection was expanded into a double set in 1990. Mr. Soft is a budget-priced double set which includes several cuts from their first album as well as material from the full duration of their career, including a 1986 45 rpm, Irresistible. Make Me Smile CD compilation inevitably duplicates most of the hits on the earlier compilations but it was compiled by Harley himself. The Timeless Flight compilation is not to be confused with the 1976 album of the same name.
45s:
Sebastian/Rock And Roll Parade (EMI 2051) 1973
Judy Teen/Spaced Out (EMI 2128) 1974
Psychomodo/Such A Dream (EMI 2191) 1974
Mr. Soft/Such A Dream (EMI 2191) 1974
Big Big Deal/Bed In The Corner (EMI 2233) 1974
Make Me Smile (Come Up And See Me)/Another Journey (EMI 2263) 1975
Mr. Raffles (Man It Was Mean)/Sebastian (live) (EMI 2299) 1975
Black Or White/Mad Mad Moonlight (live) (EMI 2369) 1975
White White Dove/Throw Your Soul Down Here (EMI 2409) 1976
Here Comes The Sun/Lay Me Down (EMI 2505) 1976
(I Believe) Love's A Prima Donna/Sidetrack One (EMI 2539) 1976
---
Steve Harley was born in London on 27th February 1951 as Steven Nice. When he left school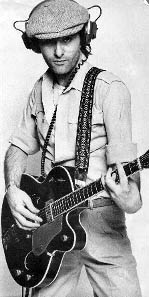 he became a local newspaper reporter in Colchester, but then moved to London to pursue his music career on the folk circuit. Before long, he changed his name to Harley and started to put together a band, who were snapped up amidst some competition by EMI.
Their first album, The Human Menagerie, was lavishly orchestrated but didn't sell in any great quantities. Early copies with a biographical booklet are extremely rare now. The prize cut, Sebastian, was also put out on 45. It was a big hit in many European countries but surprisingly failed to chart in the UK. Before a follow-up album, Judy Teen was released as a stop-gap single. It shot to No. 5 in the UK Charts.
Their second album, The Psychomodo, was a definite progression - theatrical and full of variety with some unnerving keyboard work. The band assumed a theatrical appearance and were the subject of considerable hype. They enjoyed an enormously successful tour in the Summer of 1974 but proceeded to split afterwards following internal friction. However, in Mr. Soft the album spawned another hit single and as a temporary measure Harley was supported by Francis Monkman (formerly of Curved Air), B.A. Robertson and Stuart Elliot as he promoted the 45, prior to putting together a new line-up for a Rainbow Concert in October of that year. This new line-up included a guitarist, Jim Cregan (ex-Stud, Family), which had been a notable omission from the first line-up, but the move didn't go down too well with their fans. The new line-up soon worked on an album in November 1974 at EMI's Abbey Road studio and Air Studios in London.
The band, which had previously been billed as Cockney Rebel, now operated under the moniker Steve Harley and Cockney Rebel leaving no-one in doubt who was in charge. Just prior to this, Steve released his first solo single, Big Big Deal. Only Steve and Stuart Elliot played on it and it was pretty good but failed to sell at the time. Nowadays it's becoming a minor collectable as copies are hard to track down.
The Best Years Of Our Lives, which Harley co-produced with Alan Parsons, was their best album to date and climbed to No. 4 in the album charts. It provided them with their biggest UK hit single, Make Me Smile (Come Up And See Me), which rose all the way to No. 1, and with the superb Mr. Raffles (Man It Was Mean), which narrowly missed the UK Top Ten. The flip to Mr. Raffles was a live recording of the band's 45, Sebastian, which had been recorded at the Hammersmith Odeon in April 1975. Another live track from the same concert, Mad Mad Moonlight, can be heard on the flip of the follow-up, Black And White, which didn't get any chart action.
The Timeless Flight album was much more laid back than its predecessors, having a much more spiritual and religious feel to it. A second 45 to Black And White, White White Dove was also taken from this album but it, too, failed to chart.
By contrast, Love's A Prima Donna was much more celebratory. The title track was also issued as a 45, as a very spirited cover of George Harrison's Here Comes The Sun. By contrast, Love Compared With You, a fine love song, was issued as a US-only release.
Early in 1977, Steve went to live in the States and broke up the band. He embarked on a solo career but failed to achieve the same acclaim in this capacity as he had with Cockney Rebel. After a couple of minor-key solo records, Steve was largely unheard from throughout the 80s, but in the early 90s, he decided to revitalise his career with a series of performances in mainland Europe, playing old solo and Cockney Rebel classics. 1992 saw the release of a fairly successful comeback album, Yes You Can, 1995 - a Greatest Hits Live picture CD, containing material recorded at the most recent shows, and 1996 - another solo album, Poetic Justice.
Make Me Smile (Come Up And See Me) has been successfully covered by many prominent artists since it had originally hit the charts, which is a living testament to the longevity and brilliance of this song, over 20 years after its release. Steve Harley remains a strong cult favourite amongst collectors and fans to this day, as well as a popular attraction on the European live circuit, and his popularity is not about to wane any time soon!
Taken from The Tapestry of Delights - The Comprehensive Guide to British Music of the Beat, R&B, Psychedelic and Progressive Eras 1963-1976, Vernon Joynson
ISBN 1 899855 04 1
---