Week of May 3, 1997
O'Sullivan, Gilbert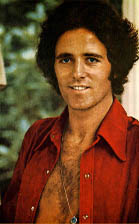 Born Raymond O'Sullivan, 1 December 1946, Waterford, Eire. O'Sullivan's family moved to Swindon, England, during his childhood and after attending art college there, the singer was signed to CBS Records. Under the name Gilbert he issued the unsuccessful 'What Can I Do?' and soon moved on to Phil Solomon's Major Minor
label, where 'Mr. Moody's Garden' also failed. Seeking a new manager, Gilbert wrote to the starmaking Gordon Mills, who had already launched Tom Jones and Engelbert Humperdinck to international success. Mills was impressed by the demo tape enclosed and relaunched the artist on his new MAM label under the name Gilbert O'Sullivan. The debut 'Nothing Rhymed' had some clever lyrics and a strong melody. It reached the UK Top 10 in late 1970 and television audiences were amused or puzzled by the sight of O'Sullivan with his pudding basin haircut, short trousers and flat cap. The 'Bisto Kid' image was retained for the first few releases and the singer initially acted the part of an anti-star. At one point, he was living in the grounds of Mills' Weybridge house on a meagre œ10-a-week allowance. His hit-making potential was undeniable and his ability to pen a memorable melody recalled the urbane charm of Paul McCartney. Early UK successes included 'We Will', 'No Matter How I Try' and 'Alone Again (Naturally)'. Any suspicions that O'Sullivan's charm was largely parochial were dashed when the latter single broke through in America, peaking at
number 1 and selling over a million copies. The debut album, Himself was also highly accomplished and included the radio favourite 'Matrimony', which would have provided a sizeable hit if released as a single. O'Sullivan went on to become one of the biggest selling artists of 1972. That year he enjoyed two consecutive UK number 1s with 'Clair' (written in honour of Mills's daughter) and 'Get Down'. These singles also reached the US Top 10. By this time, O'Sullivan's image had radically changed and he began to appreciate the superstar trappings enjoyed by Mills' other acts.
O'Sullivan's second album, Back To Front, reached number 1 in the UK and his appeal
stretched across the board, embracing teen and adult audiences. For a time, he seemed likely to rival and even excel Elton John as Britain's most successful singer/songwriter export. Although further hits were forthcoming with 'Ooh Baby', 'Happiness Is You And Me' and 'Christmas Song', it was evident that his appeal had declined by the mid-70s. Following the UK Top 20 hit 'I Don't Love You But I Think I Like You' in the summer of 1975, his chart career ceased. After a spectacular falling out with Mills, he left MAM and returned to CBS, the label that had launched his career. Five years on, only one hit, 'What's In A Kiss?', emerged from the association. Minus Mills, it seemed that the superstar of the mid-70s was incapable of rekindling his once illustrious career. His disillusionment culminated in a High Court battle against his former manager and record company which came before justice Mars Jones in the spring of 1982. The judge not only awarded O'Sullivan substantial damages and had all agreements with MAM set aside, but decreed that all the singer's master tapes and copyrights should be returned. The case made legal history and had enormous repercussions for the British music publishing world. Despite his court victory over the starmaking Mills, however, O'Sullivan failed to reestablish his career subsequently.
Albums: Himself (1971), Back To Front (1972), I'm A Writer Not A Fighter (1973), Stranger In My Own Backyard (1974), Southpaw (1977), Off Centre (1980), Life And Rhymes (1982), Frobisher Drive (1988), In the Key of G (1989), Live in Japan (1993), By Larry (1994), Every Song Has It's Play (1995), Singer Sawing Machine (1997).
Compilations: Greatest Hits (1976), 20 Golden Greats (1981), 20 Of The Very Best (1981), 20 Golden Pieces Of Gilbert O'Sullivan (1985), 16 Golden Classics (1986).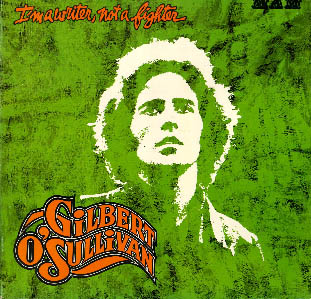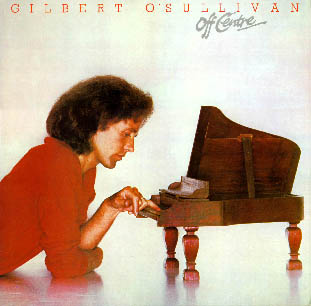 (from "The Guinness Who's Who of Seventies Music", Guinness Publishing, UK, ISBN: 0-85112-727-4)
---
To the Gilbert O'Sullivan Home Page
Back to Alex's Home Page