Week of September 14, 1997
GOMORRHA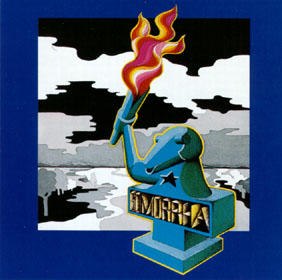 "I Turned To See Whose Voice It Was" (1972)
At the end of the 1960's, two friends - Helmut Pohl (dr) and Eberhard Krietsch (org, b) - started writing songs together. In order to enable them to follow their musical goals with more consequence, they decided to start a band. In 1969 they met the guitar players Ad Ochel and Ali Claudi.
Over the next ten months the rock group that started as a hobby project became more professional. They met Conny Plank, who back then was taking his first cautious steps as producer and sound engineer. Since Gomorrha had only very limited financial capacities at their hands, they went into the recording studio on a semi-official basis, recording an album within 14 days... or rather nights because they recorded in the time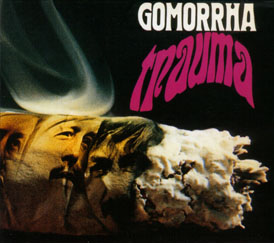 between midnight and 3 a.m. The album showed a lot of influences from the Beatles and had a very fairy tale-like feel to it. Even though an English version was released one year later, Gomorrha very quickly dissociated themselves from this early recording.
Gomorrha wanted their demanding lyrics to be understood. But even though the German audience liked their music, the fixation on English-language rock was so strong that rock with German lyrics did not stand a chance. So the German rock pioneers changed their concept, started to write in English and found an experienced lead singer in Peter Otten. They also took Mike Eulner (b) aboard so Krietsch no longer had to switch from bass to organ and back.
In early 1972 Gomorrha went back into the studio, again with Conny Plank as producer, and needed only four days to record the six songs for "I Turned To See Whose Voice It Was". The band sounded relaxed and laid back. And even though their sometimes ominous fantasies created an apocalyptic mood, their guitar and organ-dominated sound had a releasing and optimistic feel to it. Otten used experiences he had in his daily life for his lyrics, thus creating private images without showing any inclination towards social criticism. "If I had political goals, I'd never even think about making music. I'd stick to text as the medium of choice." (Peter Otten).
Brain Records recognised the potential of the band from the Rhineland and gave them full artistic liberty in recording what was to become their only official album. Gomorrha used the chance to create a typical and influential document of German rock music that underwent a period of radical change at that time. Following the brave ambition to give German rock music an adequate forum, Brain did the logical thing when they decided to support and promote Gomorrha. However, time was not ripe for an individual German rock consciousness. The fans still unquestioningly followed the impulses coming from Great Britain and the US and overlooked - at least initially - the struggling movement of independent German rock bands. Gomorrha fell victim to the spirit of that time. The musicians were not prepared to take the insecurities that come with life as an artist, so they split up in 1973 and went back to their regular jobs. None of the musicians undertook any other musical endeavours, so the album at hand remains the only proof of the talent of Gomorrha and their historical importance.
Christian Graf
Taken from the Repertoire reissue of "I Turned To See Whose Voice It Was", Repertoire, 1997, PMS 7052-WP.
---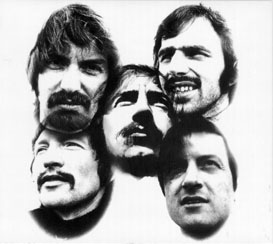 This is a group that gradually have acquired legendary Status over the last twenty years, at least among the dedicated progressive connoisseurs. The group formed as a quartet in the late sixties: Ad Ochel (guitar, vocals), Ali Claudi (guitar), Eberhard Krietsch (bass, piano, organ, vibraphone, vocals) and Helmut Pohl (drums, flute, vibraphone, vocals). They were brave enough to write German lyrics for their early material, as found on their debut on the Cornet label in 1970. This album is a prime example of vintage progressive music in that it still had a lot of beat influence (it sounds as if it was recorded in 1969). Even if produced by Konrad Plank (present on all three albums), the sound is a bit thin and weary. Nevertheless, it is a charming historical document of the development in German rock, containing eight short tracks and the 8 minute "Trauma", all characterised by heavy psych guitar work and layered with sound effects.
"Trauma" (1971) was actually a re-recording of the same material, now with English lyrics and more progressive arrangements. A fifth member had been added: Peter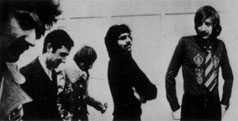 Otten (vocals). The title track had grown to 13 minutes long and been completely changed into a heavy psychedelic space rock experience! Buy both and compare, you'll hear the tremendous development. The album is recommendable on the musical strength of the title track alone. The rest of the material was still quite average. If "Trauma" at least in part was a great album, "I Turned To See Whose Voice It Was" (1972), drew from its best moments, resulting in a full blown heavy guitar freak out verging on space rock. It contained six tracks of a distinctly German character. Sadly it is one of the rarest Brain albums, never reissued after the initial release in 1972 (until now, that is - A.G.), resulting in a purchase price of 150 to 200 DEM in mint condition nowadays. The two first albums fetch equally large amounts.
ALBUMS:

1. Gomorrha				1970 Cornet 15038
2. Trauma				1971 BASF Cornet 20 20413-8
3. I Turned To See Whose Voice It Was	1972 BRAIN 1003

Dag Erik Asbjørnsen, "Cosmic Dreams At Play", Borderline Productions, ISBN: 1-899855-01-7, 1996.
---
Back to Alex's Home Page