Week of August 31, 1997
FANTASY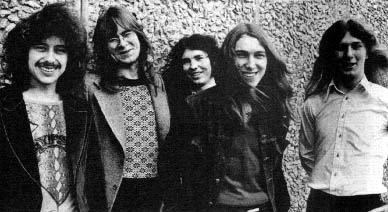 Many of the most obscure progressive bands of the late 60s and early 70s are included in our exhaustive appraisal of private pressings elsewhere in this issue. They took the independent route in the hope of being spotted by talent scouts from labels like Charisma, Island or Harvest, having already proved themselves on vinyl.
Others, like Gravesend-based Fantasy, were more fortunate. They were picked up by a major label, Polydor, and given a favourable recording budget and a name producer. Sadly, this arrangement didn't work out, and when it became clear that Fantasy weren't going to turn into Genesis or Van Der Graaf Generator overnight, the band were promptly dropped.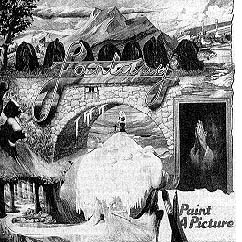 Today, many experts in the burgeoning progressive field scoff at the label's shortsightedness. For several years, Fantasy's only album, "Paint A Picture", issued in 1973, has been renowned among collectors for displaying talent that, if properly nurtured, could have given the group a massive profile in the years to come. The phenomenal BP300 price tag for a mint copy does not simply reflect the album's rarity: Fantasy's "Paint A Picture" has long been hailed as a masterpiece of classically influenced, quintessentially English progressive rock, full of delightful twists and turns and instrumental prowess, coupled with an uncanny talent for songwriting. Now, interest in the band has been heightened by the release of "Beyond The Beyond", a fascinating find dating from the summer of 1974 which, in the opinion of many collectors, simply confirms Fantasy's early promise.
The band began playing some time around 1970 as Chapel Farm, named after the Singlewell building which provided them with rehearsal space. The nucleus of Dave Metcalfe (keyboards), Paul Lawrence (guitar/vocals) and Dave Read (bass), together with drummer Brian Chatham and guitarist Bob Vann, began by performing cover versions, before focusing their attentions on their own material.
With a support slot to Argent just three weeks away, tragedy struck the band when, turning up for a 'Melody Maker' competition held at a hotel in Cliftonville, Bob Vann toppled over the cliffs edge outside. Paul Lawrence recalls that, "The rest of us had gone back inside the hotel, but we became worried because, as it was Bob's 18th birthday, he'd been drinking a lot." Bob lay on the beach below, and died in the ambulance on the way to a hospital.
TOGETHER
It was a cruel blow, but the group eventually decided to stick together, for Bob's sake if nothing else. With Brian Chatham also having left the line-up, Chapel Farm recruited guitarist Pete James and drummer Jon Webster from local band Joy, changed their name to Firequeen, and began supporting progressive heavyweights like the Edgar Broughton Band and the Pink Fairies.
After they sent out demos of their homegrown material to companies like Decca, it was Polydor who took the bait, on the proviso that the group change its name. "They didn't like Firequeen", recalls Dave Metcalfe, "as it was too close to Queen, and they said that Chapel Farm suggested that we were a country band." The name Fantasy was suggested. "We had no choice in the matter," remembers Paul Lawrence, "and we hated it right the way through our whole career. But in a way, they were right, because the name is quite representative of the sound of the music."
Having signed a three-year contract in spring 1973, the group entered Chipping Norton Studios in May with producer Peter Sames (who'd recently worked on Peter Skellern's massive hit, "You're A Lady"), emerging with a ten-song album that would have delighted Genesis and Caravan fans had they heard it. Metcalfe remembers, "We just couldn't get through that barrier of recognition. I don't think Polydor understood our music, and our management appeared not to take us seriously enough."
The label, then riding high with Slade, may have also detected a slight lack of commitment in the fact that the group members still maintained their day jobs.
Originally titled "Virgin On The Ridiculous", "Paint A Picture" appeared in the
autumn, containing much of the group's stage set, including "The Award", a tribute to their late guitarist Bob Vann. Also included was the commercially inclined "Politely Insane", which was written and recorded on the same day. Brass was later added, and the track provided Polydor with the single they wanted. It didn't give them the sort of sales figures they were looking for, however. "Politely Insane' was backed by the non-LP cut, "I Was Once Aware", which helps explain its current asking price of BP20.
Fantasy were disappointed but not disheartened by the poor response to "Paint A Picture". They knew that their music was the kind that needed nurturing, and that audiences would take time to warm to their classically influenced and richly textured material. But after sharing the bill with Queen at the Marquee, they failed to follow up with regular concerts and any momentum set in motion by the LP quickly subsided.
REJECTED
When the group returned to the studio to record a follow-up in July 1974, again with producer Peter Sames, the mood was buoyant. "From the moment we went into the recording studio," recalls Dave Metcalfe, "we were absolutely confident we had an album that marked a big step forward. Unfortunately, the atmosphere wasn't good and things didn't work out, particularly with the producer, who wasn't 100% behind it." Polydor rejected the tapes, Dave Metcalfe quit, and the band quietly disbanded.

When news first leaked that Fantasy's second album, "Beyond The Beyond", was to receive a belated release, there was considerable excitement among progressive music specialists. Few can remember Fantasy from the time, though the legendary status of "Paint A Picture" reached new heights when the German Second Battle label reissued the set in 1990, which prompted Polydor in Japan to transfer the album onto CD the following year. "Beyond The Beyond", which offers a selection of neo-Gothic, keyboard-led musical adventures, together with a smattering of gentle acoustic-based songs (topped with some typically early Seventies lyrical abandon!), fulfills all the promise of their debut. It's already being spoken about with hushed reverence among the progressive collector's fraternity, although the only disappointment is its non-appearance on vinyl. If demand is strong enough, there must be a possibility of an LP edition at a later date. After all, part of the appeal of this whole musical genre was its attempt to bring high art into the popular music format, something which was always reflected in the sleeve designs of that era. Most collectors will feel that "Beyond The Beyond" deserves 12"x12", not 5"x5"!
---
COMPLETE DISCOGRAPHY
FANTASY SINGLE
Polydor 2058 405	POLITELY INSANE/I WAS ONCE AWARE (10/73)
FANTASY LPs
Polydor 2383 246	PAINT A PICTURE (1 1/73)
Second Battle 843 263-1	PAINT A PICTURE (Germany; reissue, 1990)
FANTASY CDs
Polydor KK ERC-29229	PAINT A PICTURE (Japan; 1991)
Audio Archives AACD001 	BEYOND THE BEYOND (2/92)

---
Mark Paytress, Record Collector, No.153, May 1992