Week of November 23, 1997
Affinity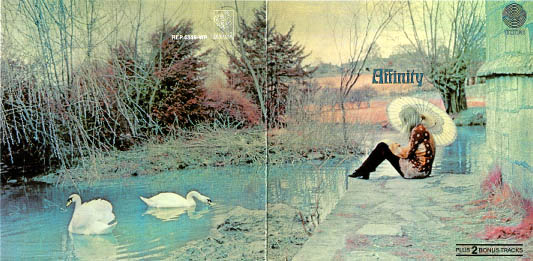 Personnel:
Mo Foster - Bass
Linda Hoyle - Vocals
Mike Jupp - Guitar
Lynton Naiff - Keyboards
Grant Serpell - Drums
Album:
Affinity (Vertigo 6360 004) 1970
Issued on Paramount (PAS 5027) in the US. Reissued on CD (Repertoire REP 4349-WP) 1993 along with both sides of their 45.
45:
Eli's Coming/United States Of Mind (Vertigo 6059 018) 1970
(Credited to Affinity and Linda Hoyle)
---
Basically a blues-rock band with jazz influences. The music, is very brassy and a bit like Julie Driscoll without soul. At least one beautiful atmospheric ballad, "Night Flight" lightens the proceedings. They also slaughter Hendrix' "All Along The Watchtower", while the non-album 45 falls short of Laura Nyro's original. Linda Hoyle recorded a blue-eyed blues album later on for Vertigo. Her vocals on the Affinity album have led some to regard the band as a British Jefferson Airplane.
Organist Lynton Naiff later played with Toe Fat and Killing Floor. Grant Serpell ended up in Sailor.
They also had a track, "Three Sisters", included on the Vertigo Annual 1970 compilation, but it's nothing special.
Taken from The Tapestry of Delights - The Comprehensive Guide to British Music of the Beat, R&B, Psychedelic and Progressive Eras 1963-1976, Vernon Joynson
ISBN 1 899855 04 1
---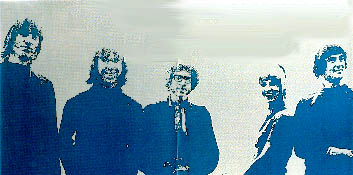 Fronted by vocalist Linda Hoyle Affinity's one and only LP is now worth around BP60 on the collectors' market. Not bad for a band whose entire recorded output consists of just the "Affinity" LP and the single "Eli's Coming"/"United States Of Mind" (Vertigo 6059 018) which is in itself worth around BP10. Ably supported by guitarist Mike Jupp, bassist Mo Foster, organist Lynton Naiff and drummer Grant Serpell, Affinity were one of several UK jazz-rock groups signed up by the influential Vertigo Records. But although the band's seven-track debut was well received by the critics, it didn't dissuade the group from splitting up soon after its release in 1970.
Linda Hoyle continued to record for Vertigo, releasing the "Pieces Of Me" LP (Vertigo 6360060) in 1971 on which she was backed by Chris Spedding and Soft Machine members John Marshall and Karl Jenkins. The LP was a much more varied one than Affinity's, ranging from ballads to hard rock, and though it wasn't a commercial success, it's now worth something like BP125 to a dedicated devotee Vertigo Records collector. Drummer Grant Serpell went on to join Sailor, playing on hits like "Girls Girls Girls" and "A Glass Of Champagne", whilst organist Lynton Naiff gigged with Toe Fat, the band led by ex-Rebel Rouser Cliff Bennett. Mo Foster later resurfaced in Ray Fenwick-led Fancy, in the mid 70s.
Mark Brennan
Taken from the Repertoire reissue of "Affinity" (REP 4349WP, 1993)
---